Updates in the HelpDeskEddy system (04.29.2019)
30.04.2019
Greetings, Colleagues!
We are gladly to inform you about our new great functionality that will help to simplify your agents job and eliminate misunderstandings with customers. We are talking about the time intervals in the dispatcher!
Dispatcher Condition –Ticket owner's status;
Dispatcher Condition - Event time (interval);
Dispatcher Condition - Event Day.
These conditions allow you to adjust the time in the dispatcher's rules in a certain time interval on the specified days of the week with or without considering the user status in the system.
For example, clients often come to you off hours and demand to respond to their request as quickly as possible without knowing that you are not currently working.
Thanks to this functionality, you will be able to automatically inform clients who are contacted to your company that working time has expired today or you are at a lunch break and you do not want your customers to be left without feedback.
This eliminates the client's misunderstanding about the long response to his request, he will immediately receive a message that your working time has now come to the end or you are out of work. Also he will get the time and date when he can receive answe from you.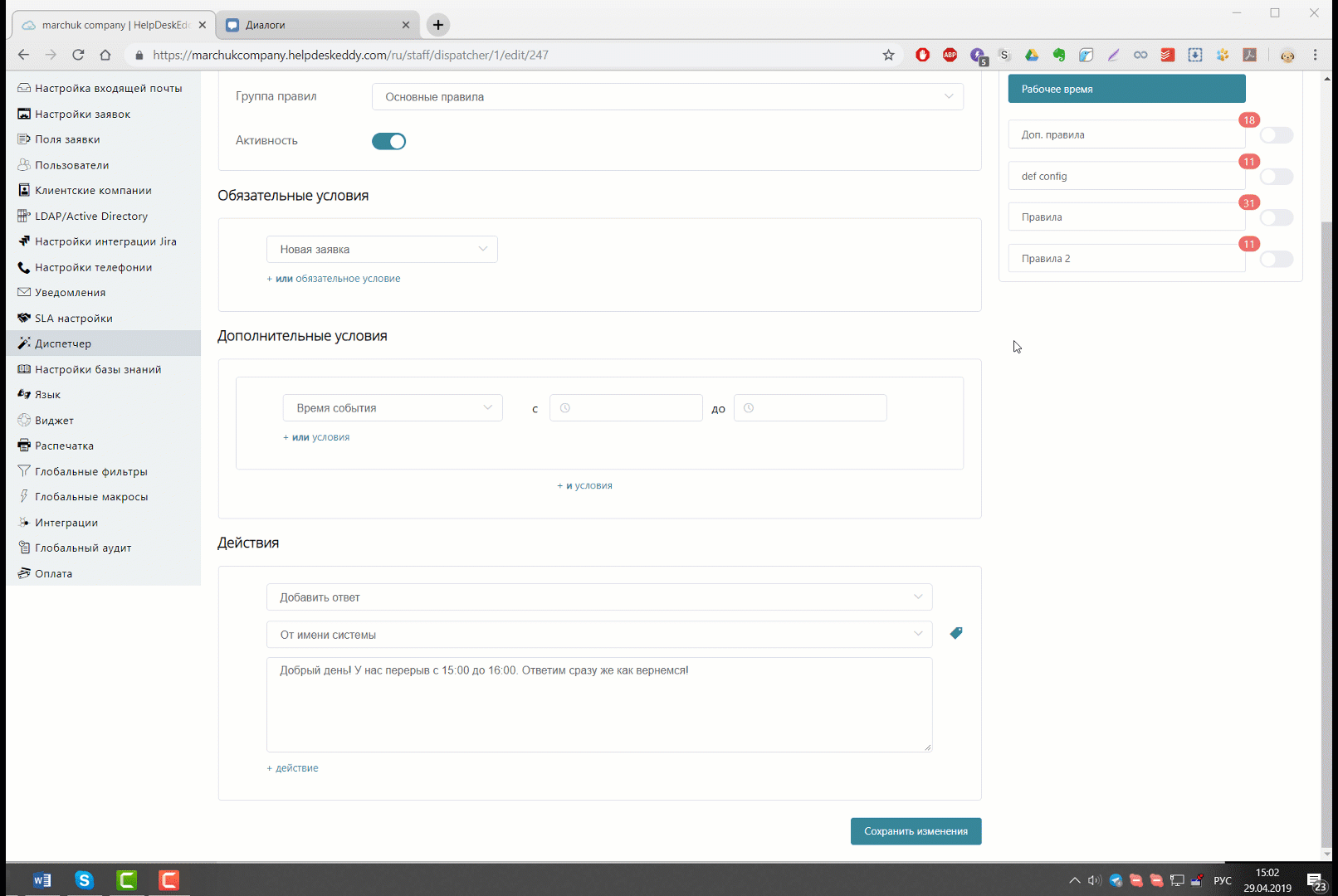 More information about the time intervals in the dispatcher you can see in this video:
Additional filter options:
A new condition for displaying feedback rates in tickets: Rate - Positive / Negative / Unrated. Please note that only those tickets that have been rated since the date of this update will be displayed in the filter.
API updates:
Added rate, rate_comment, rate_date parameters that allow you to get rates of tickets and their comments.
We hope these updates will be useful to you, in case of any wishes or improvements, please contact us:
https://support.helpdeskeddy.com
support@helpdeskeddy.com
skype: helpdeskeddy